○ Macrogen has completed the installation of its first NovaSeq X Plus at its Genome Center in Korea and is gearing up to put in place additional units of the system within this year, which will bring the total to five systems across the company's affiliates in Korea, Japan and Europe.
○ The move by Macrogen showcases its strong commitment to its genome foundry business which will focuses on the prompt and precise consigned manufacturing of genomes on a large scale and related services.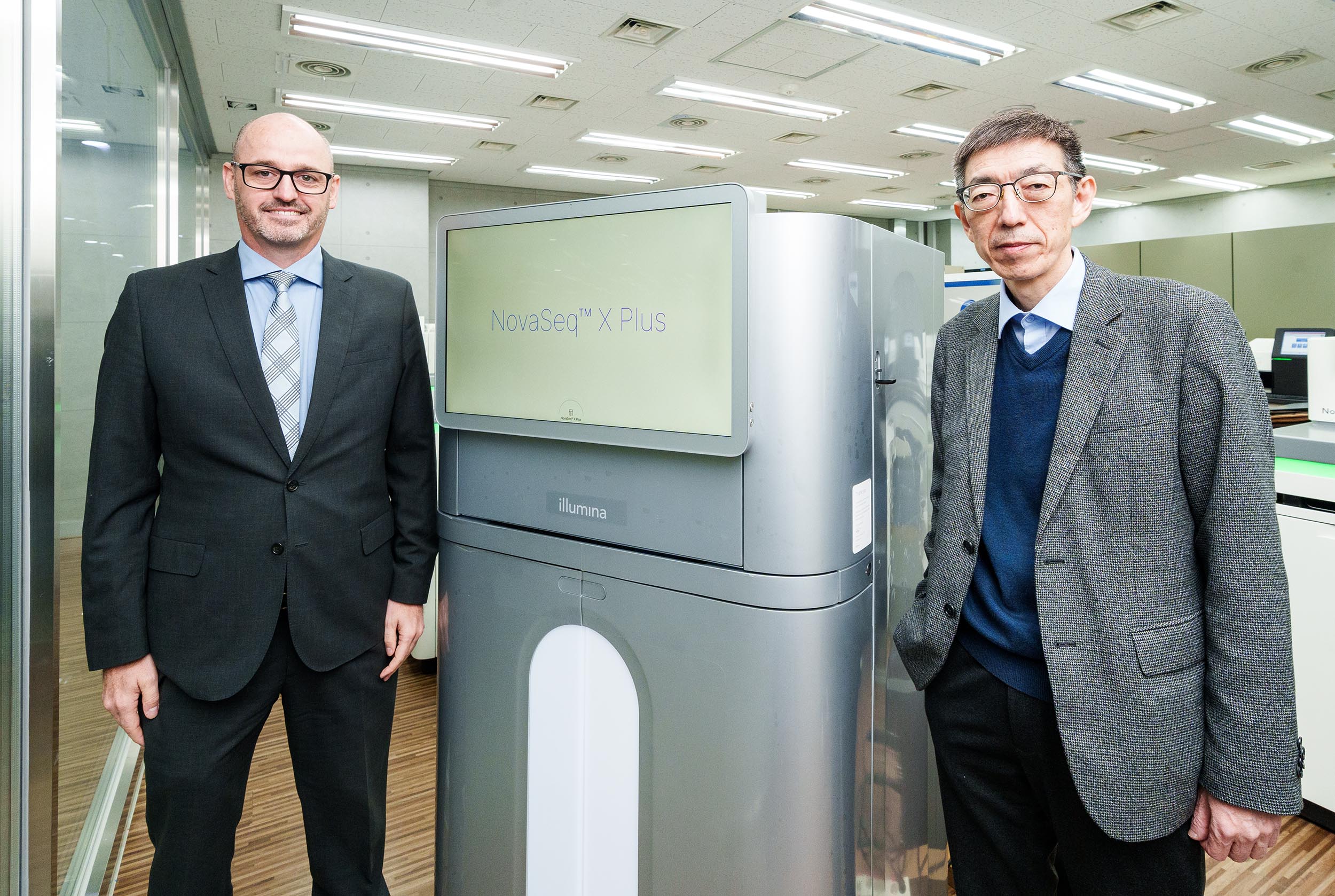 Illumina's General Manager of Korea Rob McBride and President of Macrogen Changhun Kim
stand in front of the NovaSeq X Plus that has been successfully installed at the Genome Center of Macrogen

Macrogen, a global company specializing in genome-sequencing, became the first company to adopt NovaSeq X Plus, a high-precision, whole-genome sequencing system developed by the U.S.-d Illumina in Korea on March 6. This latest adoption marks the first in wider Asia as well.
With the NovaSeq X Plus fully installed, Macrogen is now set to operate the latest system. Following this first installation at the Genome Center in Korea, four more units will be installed by Macrogen across its global affiliates, including in Japan and Europe, as well as at Psomagen, its U.S.-d partner company, to bring a total of five units of NovaSeq X Plus under its roof worldwide by the end of this year.
NovaSeq X Plus, featuring the latest in innovative technologies, has dramatically increased the annual throughput for genome sequencing from approximately 8,000 to over 20,000 whole genomes, marking a 2.5 times increase. Macrogen plans to dramatically scale up its capacity with the help of NovaSeq X Plus which will serve as a driver for the growth of its genome foundry business that will focus on the prompt and precise consigned manufacturing of genomes on a large scale, along with related services.
"We are happy to be the first in the market to offer our clients in Korea the latest genome-sequencing technologies represented by NovaSeq X Plus. We believe this will help dramatically boost Macrogen's sequencing capacity, and in turn, fuel the growth of the company's genome foundry business. Our aim is to not only solidify our status as a market leader in genome-sequencing in Korea, but also as a competitive p on the global scene, to accelerate the growth of our revenue streams both at home and abroad," commented Vice President Eungryong Lee of Macrogen.
Illumina's General Manager of Korea, Rob McBride noted, "Macrogen is one of our most highly respected global partners and we are very pleased today to deliver our latest innovation in sequencing technology – the NovaSeq X. Macrogen is one of our first customers worldwide, and first in this region, to receive NovaSeq X and we look forward to working closely with them as they take advantage of the benefits NovaSeq X can provide to their own customers."

Meanwhile, Macrogen became the only Korean company last September to join the glitzy roster of Illumina's four global partners in the launch of NovaSeq X, whose other members are the Broad Institute, the deCODE genetics and Regeneron Genetics Center.
Offering dramatic improvement from existing sequencers in terms of speed, scale, accuracy, and sustainability, the NovaSeq X series specifically offer a marked improvement in the following areas:
2x higher speed and up to 3x greater accuracy;
2.5x greater throughput, thanks to the highest-resolution optics and ultra-high density flow cells;
Highly accurate and fully automated secondary analysis with 5x lossless data compression;
Reduction in the waste of packaging with more thermostable reagents
The revolutionary technology is expected to offer a dramatic turning point in the advance of genomic medicine, including treatments for cancer and genetic diseases, precision therapy and pandemic response, ultimately promoting better health for mankind.